To know everything about the delivery of your order and return options, it's here!
Carrier
We ship our orders via Colissimo only. We have chosen to keep this classic transporter because it is the safest, it respects French labor law and offsets its CO2 emissions.
Your purchases are wrapped in recycled tissue paper, protected by recycled shipping cardboard, sealed with paper tape. The whole packaging is therefore recyclable, think about sorting!
Shipping times
Your order will be processed within 24 to 48 hours. Colissimo delivery times are 2 to 3 working days. So allow about 4 to 5 days to receive your purchase. If your need is urgent, or must arrive by a specific date, tell us when you confirm your order. We will do our best to ensure that your package is shipped on time.
Delivery options
When ordering, you will generally have the choice between 3 delivery options:
Colissimo without signature: delivered to you without signature. Deposit in letterbox or with the caretaker is possible.
Colissimo with signature: delivered to your home with signature, your presence will be essential.
Colissimo "Pick-Up Point" : delivery to a network of 19,000 pick-up points in France and Europe (post office, pick-up point and locker). You can check here for the nearest pick-up point from your place.
For an international order, only the Colissimo Expert option is offered because it offers an appropriate level of security and guarantee.
Shipping cost
We apply delivery costs depending on the shipping area and the amount of your order.
Find below the summary of all our delivery costs, anywhere in the world.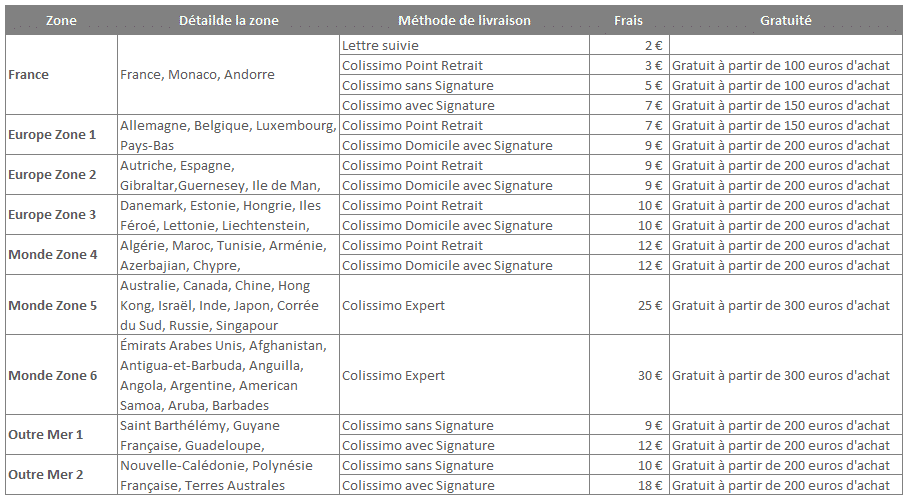 Returns and exchange
Your order does not suit you? No problem! We can proceed with the exchange or refund without you having to justify yourself.
To do this, write a small email to [email protected] or reply to your order confirmation email.
In metropolitan France, returns are free and very simple. We will send you a Colissimo return coupon to print : no need to advance any money upfront.
In addition, for your return Colissimo you can request departure in the letterbox. No need to move, simply drop the package in your mailbox and the postman will come and get it! (Prerequisite: your mailbox must be standardized)
To find out more about this type of returns, see this page .
To request a withdrawal of your package from your mailbox it's here!
We hope to have answered all your questions: If it is not the case, please contact us via the Contact form.